Peoples State Bank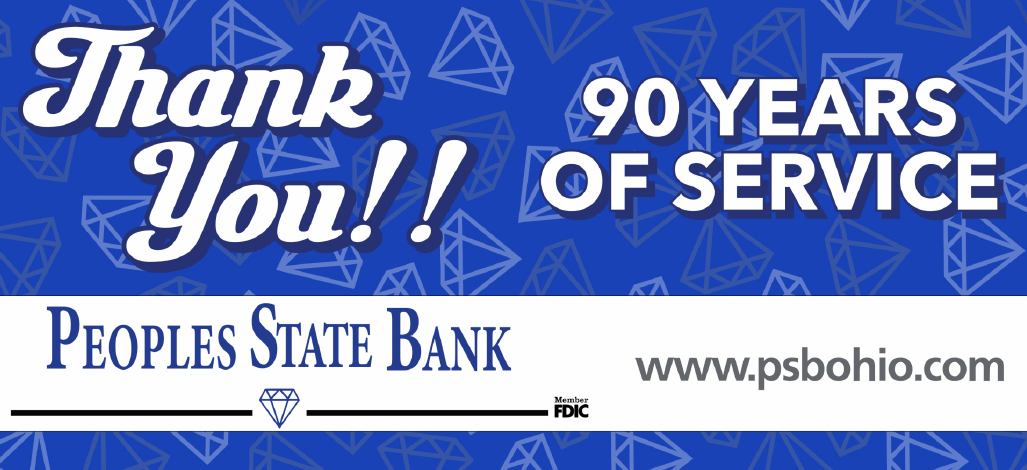 "We love that we can walk into any branch, and everyone knows who we are.  They are all about customer service and that is why we have stayed for all these years.  This will always be where we will bank" ~Bruce and Sheri Starner, Customers for over 45 years
"The Tecumseh Theater Youth Programs Team is proud to bank with Peoples.  We know that when we reach out, someone we trust is going to pick up the phone and help out.  They are interested in and invested in our progress at the Theater.  Folks at Peoples State Bank care about us and we care about them.  We are proud to highlight Perry County kids' creativity and artistic skills with support from PSB.  Thanks, y'all."  -Scott Kreps,  Tecumseh Theater, Shawnee Ohio  
Peoples State Bank is a great name.  They are all about "Their People".  It is nice to walk thru the door, be greeted and called by name.  Whether its's personal banking or business needs, they are always there for us and the community.  We love all the decorating that is done at the Thornport Office.  That is a wonderful personal touch.  -Neil & Janet Beard, Beard Family Farm, LLC
Our Commitment
Being a locally controlled and managed bank gives us that unique ability to make decisions more quickly and provide more customized services and products that truly benefit residents of the area. That is what hometown banking is about—friendly service and great products, banking the way it should be.
reaching out and being involved
True Community Requires True Commitment
Here at Peoples State Bank, we are dedicated to helping our community.  We believe in helping others, building long term relationships, and giving back to the neighborhoods we serve. We are committed to making our community a better place to live, work and play.
"Knowing is half the battle" was a popular line in a children's cartoon in the 80's. That phrase holds a lot of truth. We strive to provide you with information on current scams and safety concerns to keep you, your family and friends protected.
Looking for a rewarding career with a community bank?  When you join the Peoples State Bank team, it is more than just a job, it is about making a difference. We are looking for friendly, energetic people that are committed to helping us serve our community for generations to come.